Winning! by Clive Woodward
Now available in Paperback!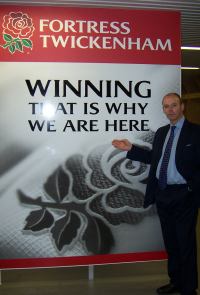 It may seem strange to find a book the World Cup winning Rugby Union Coach of England on a website about the business ideas of an Australian dentist, however head coach Clive Woodward attributes several of Paddi's ideas as being at the core of the Winning! Mindset of his victorious team.


Enjoyment
Critical Non-Essentials
Thinking Differently

If you have any interest in sport, and particularly the management of elite sports using cutting edge business principles, Winning! by Clive Woodward is a must have book and a great companion to the Paddi Series of publications -- read how a billion dollar business was turned into a Winning! organisation with the help of the ideas of Australia's self-confessed crazy dentist.

In Clive's Winning! Mindset, Enjoyment was first, which he learned in Building the Happiness Centred Business.

The Critical Non-Essentials is one of Clive's favourite concepts about the importance of paying attention to the details just that 1% better than your opposition in a hundred different areas.

And Thinking Differently is a core concept developed specifically as a result of Paddi's extraordinary lateral thinking in each of the six areas of business described in the Paddi Series.


Winning! by Sir Clive Woodward

National hero Sir Clive Woodward lays down his blueprint for success in this inspirational story of how England won the 2003 Rugby World Cup.

22 November 2003 is a day never to be forgotten -- the day Clive Woodward's all-conquering England team lifted the Rugby World Cup. Hailed as a brilliant coach with visionary powers of Leadership and motivation, Sir Clive returned triumphant from Australia to an adoring public. In Winning!, a gripping account of how England achieved their victory, he shows for the first time how he used his personal business philosophy to mould a team capable of reaching the very pinnacle of its sport, and reveals exactly who and what influenced him on the long road to glory.

In Clive's Woodward's own words, "Winning! is the story of our journey to World No 1 ranking, and Rugby World Cup success, setting new standards for rugby and business along the way."


Winning! by Clive Woodward

AUD $21.95


Winning! The story of England's rise to Rugby World Cup Glory

Read how Clive Woodward took England rugby from the bottom of world class rugby right to the top as World Champions, and specifically how he applied business concepts the management of elite sports, including the business ideas of Dr Paddi Lund who has built one of the most amazing businesses on the planet by learning to Think Differently about business.

From the inside cover...

Clive Woodward -- from misfit player to legendary Rugby Coach

Clive Woodward was born in 1956 and educated at HMS Conway Naval School and Loughborough University where he obtained a degree in Sports Science. He captained the Loughborough University XV and joined first Harlequins and then Leicester where he formed a formidable centre partnership with Paul Dodge. He represented England on twenty-one occasions and toured twice with the British Lions.

Retiring after an outstanding international career, he was posted by his company Rank Xerox to Sydney where he became captain of the Manly club. Returning to England five years later with his wife and family, he established his own successful computer leasing company in Maidenhead and began his remarkable career as a rugby coach with the nearby Helnely club.

After innovative spells coaching London Irish and Bath and the England Under 21s, he was appointed by the Rugby Football Union as the National Coach in 1997. He immediately transformed the traditional practices of previous English set-ups, introducing business principles, setting long term goals, paying attention to detail and planning the personal development of individuals in the basic skills, tactics and strategy of modern rugby.

The resulting transformation of the national side led to England at last beginning to beat the Southern Hemisphere teams on a regular basis, becoming the No 1 ranked team the the world, and ultimately winning the greatest prize in rugby, the World Cup.

On his return with the World Cup, as a cap to his great victory, Clive Woodward was rewarded with a knighthood in recognition of achieving England's greatest sporting victory in 37 years.