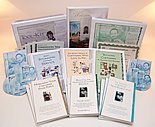 A Series of Paddi Packages for Extra Value

You can order any of Paddi's books, Advanced Manuals, Practical Kits or Audio/Videos individually or in one of our value-packed Paddi Packages.

Great value for your money, and you'll receive all the publications you need to master Paddi's insightful concepts, systems and ideas.

Paddi Starter Packs (from AUD $74.95) -
includes Paddi's most popular publications ready to download now as E-Books,

I've just finished your book. It's brilliant! I've just ordered all of your manuals, CD's, etc. I want all of my clients to know about this. The business community badly needs books like these (together with the philosophy that underpins them).

Kim Willis
-- Marketing Consultant,
Sydney, Australia

Building the Happiness Centred Business E-Book
The Absolutely Critical Non-Essentials E-Book
Mobilising Your Customer Sales Force E-Book
PLUS, as our gift,

Original Paddi Audio Story - On-Line Edition MP3s
... so that you can get started on the ideas right now!


The Basic Paddi Package (AUD $197.00) contains Paddi's work on each of the six important systems in his business, so you can learn all about Paddi's discoveries plus the most important ideas and philosophies that will help you to implement them in your business. As well, you will receive a video DVD of Paddi sharing his story live that's perfect for introducing Paddi's story to your team. You'llalso receive an audio CD of Paddi telling his story live. It's an enthralling story that you can listen to in your car, and it's a great way to learn how Paddi feels everything ties together.

The Essential Paddi Package (AUD $599.00) contains all of the Basic Pack, so you'll learn about each of the ideas and the principles that make them work, plus you'll receive the Welcome Book Construction Kit to help you implement Paddi's most effective business system. These are the ideas that people ask about most, so Paddi has created this Kit as a step-by-step guide for those who want to 'transplant' ideas most effectively and easily. And like the first Package, a copy of The Complete Paddi Video Story and The Original Paddi Audio Story, which are a great overviews of Paddi's innovative philosophies and business ideas.