The Secret of Customers Who Love to Pay

Just Released in E-Book for immediate download!
Customers who happily pay their bills before they are due ... and even shower you with gratitude!
Learn how to ask your customers to pay and how to inject high levels of trust into customer relationships so that people actually enjoy paying on time and with no hassles.

3 Times the Average ... Working Half the Time!

Paddi Lund works less than half the time of most other single practitioners, and yet he earns over three times the average dental income. Whereas he doesn't want to be a financial guru, his systems and philosophies for money in business are certainly valuable tools for anyone in business.

As in many areas of business, in regard to financial transactions, Paddi seems to advocate just the opposite to most other educators.

Imagine, for instance, even believing that customers could be happy to pay you, let alone trying to engineer that state of affairs on a regular basis.


Customers Who Enjoy Paying You?

This publication is a collection of Paddi's (often slightly unusual) ideas about monetary affairs, and how to transact them in your business so that you get your money with no hassles (and no waiting), and your customers really enjoy the process and the sense of value they feel.

Paddi's ideas for finance are quite at variance with normal "hard" business practise. But then, increasingly it is the hard-nosed businesses that are going under in these new times. Particularly, Paddi's ideas for monetary transactions in business, his "Buying Cycle" and his "10 Steps to Building Trust" are profoundly insightful concepts relevant in any industry.

Paddi's ideas on bad debtors are: "Be nicer to people when they owe you money than you were when they didn't." And, "If they don't pay you, forgive them the debt and blame yourself!"

For some, scary stuff! Yet although counterintuitive, remarkably effective and remarkably liberating!


Your Needs: The Other Side of the Equation

Paddi also believes that money doesn't make you happy but the lack of it usually does. It is not the absolute amount of money that determines whether you feel happy. It is the relative amount; relative to your needs that is.

Paddi describes two strategies to balance one's finances so that one feels good about them in relation to their needs. One strategy works - the other doesn't. Both involve making money, but one has an additional part that relates to how you spend. See if you can determine where you fit in as Paddi tells the stories of the lessons he's learned.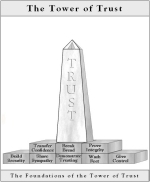 Read all about unusual situations like,


The Fountains of Fair Price and the Jungle of Price Shoppers!
The Pit of Short-sighted Sales People and the Labrynth of Jargon!
The Skeletons of Wealth Slaves and the Mine of Never Enough!
The Palaces of Unhappy Rich, the Bog of Bigger is Better and the Avalanche of Debt!
The Foul Wrack of Finance and the Hub of Happiness!

Paddi's philosophies are simple and cut to the core of our human nature. His ideas have certainly worked well for Paddi and many others who prefer a less complicated path to financial security. They can work for you, too.


Secret World of Customers Who Love to Pay E-Book

AUD $29.95


An electronic E-Book version for those who want to read the story NOW. Perfect for your PC, mobile device or reader. (PDF files only)

This version is always the most up-to-date and includes any of Paddi's recent thoughts and innovations.

You will have immediate on-line access to d ownload at your convenience as soon as you have finalised your order.