The Welcome Book Construction Kit (digital version)
Create a never ending supply of 'A' customers who love doing business with you!

Everyone in business is looking for that elusive 'perfect' customer - the one who is pleasant to serve, loves what you do, and pays bills before they are due.

But where do you find these kinds of 'made in heaven' customers? How can you create them from run-of the-mill customers, and how do you keep them coming back again and again?

Dr Paddi Lund has found the answers to these questions, and they are not the answers you might expect. Paddi has a never-ending source of his ideal clients, and it is not because he lives in the 'right' suburb or has fantastic marketing and advertising campaigns.

In fact, Paddi does no advertising whatsoever, has taken down his signs, removed his name from the telephone book and locked his front door!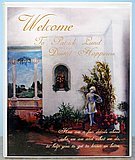 An Education System

You can use this same system in your own business. A customer education system like Paddi's would bring you exactly the type people you want as clients.You can use it so that your present customers are pre-disposed to doing more business with you ... and finding you more great new customers for your business.

Imagine, as many customers as you want - who love what you do, don't quibble about your prices, and enjoy your company! Using your own "customer conversion system" to educate your clients will help you find these ideal people.

100% Ideal Customers
I'm excited about the 'Welcome Book' concept. Today, a new customer came to my office. He drove from 30 miles away to get to my office. His first comment to me was, "That sure was one hell-of-a sales tool you have there in that book you sent me. I've already showed it to 5 other people, and they can't believe a business exists that operates like yours!" Needless to say, this made my day! Thanks for being a part of my continuing buisness success!

Dr Mark Dreyer
St Cloud, Florida, USA


Paddi relates the Pareto Principle, or 80/20 rule, to his business. He describe how, years ago, the profit on the transactions with his ideal 20% of customers used to subsidise the time and effort it took to service the other less-than-ideal 80% of his customers.

Now that he only has 'Ideal customers', every customer is profitable.


Work Less - Earn More

Now Paddi has fewer clients now than he used to, and he works far fewer hours. And his business is now more profitable.

Paddi's customers are all 100% ideal customers now because of three things his education system has been able to do for him: teach people to be better customers, help them to find other ideal customers and filter out the less ideal customers.


The Program Contains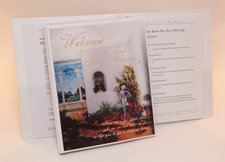 Create 'A' Class customers for your business using Paddi's Welcome Book Construction Kit including...
| | | | | | | |
| --- | --- | --- | --- | --- | --- | --- |
| | | | | 1. | A How-to e-Manual that describes the benefits and philosophy of education, explains the sections you need to include in your own Customer Information Book, and takes you through the writing process with lots of tips to make writing easier. | |
| | | | | | | |
| --- | --- | --- | --- | --- | --- | --- |
| | | | | 2. | The Welcome Book (Word Template file) that Paddi sends to his clients - the book that helped him to create a 'By Invitation Only' dental practice. Paddi sends this book out to his clients before they visit for the first time. In it Paddi explains his philosophies of dentistry and business. | |
I am constantly amazed by how effective the Welcome Book concepts are, and they are so simple. I have people quoting me back the book! I have been truly converted. Thanks for sharing such an awesome distinction!

Shirley Lee
Breakthrough Enterprises

| | | | | | |
| --- | --- | --- | --- | --- | --- |
| | | | | 3. | An Elecronic Template based on Paddi's Welcome Book that you can download immediately and begin writing your own Book right now while your publications are being shipped. |
| | | | | | |
| --- | --- | --- | --- | --- | --- |
| | | | | 4. | Audio CD Recordings in which you can hear Paddi, in his own off-beat style, explain the philosophy behind his ideas on customer education so that you truly understand why the Welcome Book can be so powerful. |
| | | | | | |
| --- | --- | --- | --- | --- | --- |
| | | | | 5. | Extra Information Sheets that Paddi uses with his customers to continue educating them about his products and services before they have them. |
Welcome Book Construction Kit (digital version)

AUD $197.00


Contains:


A digital copy of Paddi's Welcome Book
'How To' Resource Manual e-book- 84 pages
Audio CD in MP3 for download
A Word template available for immediate download!


Using Paddi's 'Welcome Book' as a guide, create your own 'Welcome Book' that will help your customers to love what you do, be a pleasure to serve, and happily pay their bills on time!