The Ultimate Paddi Story Video DVD Program
Nearly eight hours of the most intimate secrets of Paddi's extraordinary business success.

The program is based on the recording of a rare 2-day seminar that Paddi presented recently in the United States. It contains nearly eight hours of the secrets of Paddi's incredible dental success, and now you can introduce these exciting ideas to your team as a six week training program designed to completely transform your business and your experience in running it.

Take this unique opportunity to share Paddi's philosophy and ideas with your whole team at great value. (You'll be glad you did because it's Paddi's team who make his systems work.) The program comes with full session notes, including all the handout material you'll need, so that you can implement it with your entire team and enlist everyone's help in transforming the culture of your business.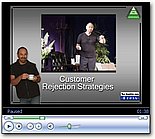 This is Your Chance...

To find the 'how-to' answers and the underlying philosophy for how it all works. As well as showing you the complete picture of Paddi's business and the six systems that make it so extraordinary, this video training program is also the "advanced course" on the two most popular systems that drive the buying patterns of his clients:


Educating customers even before they come to see you for the first time so that they arrive happy to buy. (Say goodbye to hard-nosed selling!)
Creating a Referral System that inspires your 'A' class clients to do your advertising for you and bring other wonderful new clients right to your door (forget that heavy advertising budget!).

In particular the secrets behind Paddi's amazing Referral and Education systems will help you understand how he manages his thriving business so easily.


6-Week Training Program

DVD 1 / Week 1 - Transforming your Business Culture (75 minutes)
The story of Paddi's business life and the unique lessons he's learned along the way - how "Happiness" can be a powerful business tool.



DVD 2 / Week 2 - Transforming Your Team (90 minutes)
Eight Communication Tools that will completely change the way your team interact.



DVD 3 / Week 3 - Transforming the Buying Experience (38 minutes)
Three exciting business systems that will re-invent your concept of Service and Buying.



DVD 4 / Week 4 - Transforming your 'Advertising' (103 minutes)
Effortlessly attract a greater proportion of ideal customers with an advanced Referral System.



DVD 5 / Week 5 - Transforming your 'Marketing' (84 minutes)
Highly developed systems for customer educa-tion that will have your ideal customers eager to buy your best products and services.


DVD 6 / Week 6 - 'Marketing' Cont'd -Welcome Book (60 minutes)
Wrapping up the program, Paddi demonstrates the principles in action by introducing his most powerful "sales" tool, the 'Welcome Book'.

You and your team will learn exactly how Paddi so easily attracts a high proportion of ideal clients who happily buy his best services. But most importantly, you'll learn how you can do the same in your business so that you too can work less, earn more and have a great time doing it.

Imagine ... an unlimited supply of your 'A' class patients, all wonderful to deal with, predisposed to buying your services, and happily paying their bills on time.

Sounds like our idea of business heaven!